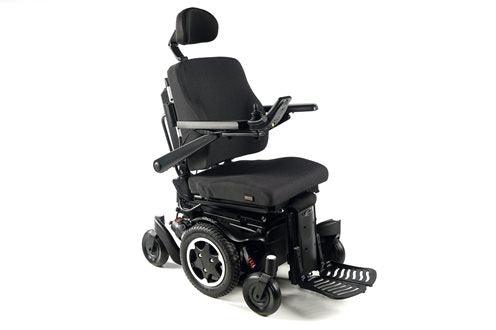 Q500 M SEDEO PRO
MID-WHEEL POWERED WHEELCHAIR
Make your own adventure with the Q500 M, combining the very best drive base in its class with a NEW suspension system for maximum traction and comfort outdoors and a compact chassis and tight turning circle for easy navigation indoors. The Q500 M is the perfect powerchair for those who want it all!
Superb indoor manoeuvrability, outstanding outdoor performance, headturning style The new QUICKIE Q500® M base balances superb indoor manoeuvrability with outstanding outdoor performance and head-turning style. All of these combined with the benefits of the highly adjustable and fully configurable SEDEO® PRO seating and the most advanced controls, creates the perfect powered wheelchair for any adventure. The updated suspension system delivers a more responsive, firm and comfortable ride.
With ultra-reliable high torque 4-pole motors powering speeds of 6, 8, 10 or 13 kph and a choice of 60 or 80 Ah batteries to maximise your range, you can always travel in confidence with the Q500 M SEDEO PRO.
SEDEO PRO - Customisable Seating
The SEDEO PRO seating system combines a highly adjustable and configurable seating frame with an excellent choice of support options, including a wide range of SEDEO PRO seat cushions and backrests for mild to medium clinical needs. The SEDEO PRO is very comfortable to use and enhances user independence in everyday life.
Tailored seating
The flexible back cushion forms to your shape to deliver unique comfort and positioning. Add an anti-shear backrest (with 10 mm of anti-shear) to prevent sliding and combine this with a power elevating legrest to achieve a comfortable sleeping position.Choose from a range of SEDEO and WHITMYER headrests and add flip-back armests for easier transfers.
Quick and easy to adjust
The SEDEO PRO frame offers great flexibility as it is fully adjustable. All adjustments can be easily and quickly made with just one tool.
SEDEO Pro seating system
Combining a highly adjustable and configurable seating frame with the broadest choice of support and positioning options, the SEDEO PRO seating system can be completely tailored to the individual.
Positioning elements
A wide range of WHITMYER headrests and JAY cushions and backs are available with the SEDEO PRO seating systems to meet everyone's clinical needs and ensure the best seating possible.
WHITMYER HEADRESTS
Created to address a range of user needs from basic support to multiple-point control. WHITMYER headrests come in a variety of pad shapes and sizes for superior head positioning and comfort.
JAY CUSHIONS & BACKS
Designed for pelvic stability, skin protection and comfort. JAY cushions and backs are low maintenance, highly customisable and are available in a large variety to meet your needs.
Control at your fingertips
Control your environment with the Q500 M SEDEO PRO and its advanced controller technology. Available with the reliable VR2 control and the superior R-Net advanced joystick, the large, easy-to-read HD display and simple to control paddle switches allow for intuitive operation.
CONNECT
Seamlessly take control of your environment using the integrated Infra Red functionality. Control your TV, docking stations and other home entertainment systems easily via your joystick.
BLUETOOTH & IDRIVE
Control your phone, computer, tablet and any other Bluetooth and i-devices with this useful optional extra. Connect and control up to four devices.
QUICKIE PATENTED ASSIGNABLE BUTTONS
Change the function on any button on your joystick to any command you desire, thanks to QUICKIE's patented assignable buttons. You can also assign a second (long press) function to buttons, for quicker, simpler and smoother access to commonly used functions without having to use your joystick.
Maximum Speed
6 & 8 kph (standard), 10 & 13 kph (optional)
Overall Width
610 - 620 mm
Product Weight
Min. 130 kg
Range
Max. 40 km (with 80 Ah batteries)
Turning Radius
Max. 630 mm
Battery Weight (each)
60 Ah, 80 Ah (optional)
Seating
Seat Width: 380 - 560 mm Seat Height: 415 - 490 mm Seat Depth: 400 - 560 mm
Do you offer a financing plan?
We have partnered with Klarna to offer interest-free credit as an option when purchasing with us. With the Klarna Financing payment plan, you can spread your payments over 12, 24 or 36 months.
Klarna is a Swedish payment service provider that takes end-to-end responsibility for your payment. Klarna is the provider of smooth payments to more than 200,000 online stores. Over 90 million consumers worldwide have trusted Klarna to securely handle their payments.
At Oakham Mobility and Healthcare we provide a number of delivery options, depending on the item(s) purchased.
Our shipping charges are based on the total order value as follows:
| | |
| --- | --- |
| Order Value | UK shipping cost |
| £0 - £75 | £4.99 |
| Over £75 | FREE |
Showroom Pickup
Select "Showroom pick up or Click & collect " at the checkout and we will telephone you when your purchase is ready. Pick up your equipment from our showroom in Oakham, Rutland at your convenience. Oakham is a picturesque medieval market town with plenty to see and do. Europe's largest man made reservoir Rutland Water is only 1 mile away, with it's famous nature reserve, internationally acclaimed Osprey project, gorgeous pubs and restaurants.Why not make a day of it?
Nationwide White Glove Engineer Delivery & Home Set Up
If you live further away than 30 miles from Oakham, you can still enjoy a nationwide mainland uk "white glove" Home set up by an engineer, including home set-up and demonstration of use, service for £95. It costs a bit extra but is well worth the money. An engineer will deliver your purchase to your home, set it up and show you how to use it. They will even take all the packaging away. Select "White Glove Engineer Delivery" at the checkout to take advantage of this option. Available to all uk mainland Postcodes.
Half Price Local White glove Delivery including Home Set Up
Including Home set up by engineer and a demonstration of the controls or what we call Local white glove delivery. If the delivery address is within 30 miles of Oakham, Rutland, You can enjoy half price delivery and engineer set-up. If you qualify, this option will appear at the checkout, depending on the postcode given for the delivery address.
Delivery to Europe and Beyond
We often deliver to Europe via our European couriers, please call 01572 755204 for our best rates.
Important: Select "Showroom Pickup" as your delivery method at the checkout, and we will invoice separately for shipping. We have delivered equipment to every continent, worldwide. We can ship equipment to any address on the planet via our logistics team. Give us a ring for a keenly priced shipping quote.
Free Standard Courier delivery
On all orders over £75. You can have your purchase delivered by courier standard pallet delivery FREE to any UK mainland address.(this is usually by TNT and on large items like scooters,ramps & riser chairs this will be to the nearest kerbside to your property as the vans do not always have pallet trucks to move the heavy item into your property.
The courier will drop off the equipment in a box and it will be up to you to unpack and assemble your purchase. If you haven't anyone to assist you we recommend you upgrade to the engineer set up white glove delivery option. Delivery will usually be 2-4 days from order ( for specific days a delivery upgrade charge will apply ) deliveries are not timed and will usually take place between 9- 5pm Monday to Friday.
Make Your Own Arrangements
At Oakham Mobility and Healthcare, we are all about flexibility. If you would like to make your own delivery arrangements, please select "Showroom Pickup" from the delivery options at the checkout.
Not sure what to choose?
If you are unsure about which delivery method to choose, call 01572 755204 to speak to one of our helpful team.
Don't forget! Kerbside courier delivery is FREE to the UK mainland on all orders over £75!
Our local delivery area:
Other Indoor and Outdoor Wheelchairs viewed by customers...