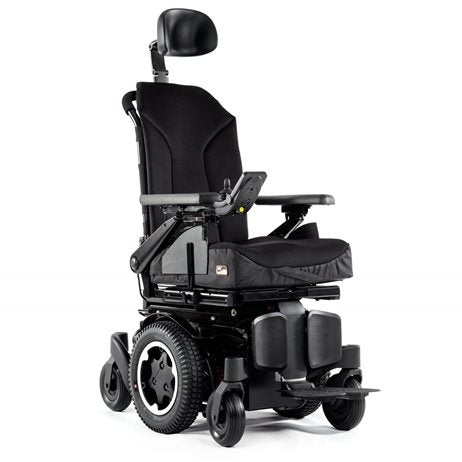 Q300 M Mini
MID-WHEEL POWERED WHEELCHAIR
Big powerchair performance in an ultra-compact design!
The narrowest true mid-wheel drive powerchair out there so you can go where others can't with the Q300 M Mini. A width of only 520mm and turning circle of 1120mm is seriously impressive with the improved outdoor performance that will get you further than ever before.
With the unique, patented all-wheel suspension that cushions every wheel you can enjoy a comfortable and safe ride. You'll be climbing kerbs of up to 4"/100mm with the 14"/355mm drive wheels, powering through tricky terrain thanks to the 4-pole motors and exploring to your heart's content with the 22 mile range with 56Ah batteries.
All of this with a multi-adjustable seating system and host of styling options - the original ultra-compact powerchair is back better than ever!
Be the first to experience it and book a demonstration now.
Compact space? Meet the ultra-slim base!
At home in your space, the Q300 M Mini boasts the REAL ultra-compact dimensions and maneuverability to cope with even the tightest of situations.
Ultra-slim 520 mm width
Ridiculously narrow at 520 mm in width, the Q300-M Mini goes where others can't. Whether it's a complicated living room, a cluttered kitchen or a narrow doorway, it'll fit in to your life, not the other way around.
Tiny 1200 mm turning circle
Thanks to its TRUE mid-wheel-drive technology, the Q300 M Mini turns on the spot, for an ultra-small turning circle of 1200 mm (as opposed to RWD/FWD powerchairs that need to 'swing' around on its front or rear drive wheels, resulting in a wider turning circle).
Short 1060 mm base length
At just 1060 mm in length, the Q300 M Mini will conveniently fit in the smallest lifts and tight spaces with ease. Never one to take up too much space, its light enough (103 kg) to be used with most floor lifts too.
Easy transfers
Struggling with transfers? Available with a variety of swing-away legrests, armrests and controllers, the Q300 M Mini will give you the extra space to get closer to objects like tables and chairs.
What is TRUE mid-wheel drive technology?
It's when the powerchair's drive wheels are aligned central to its length. If positioned more towards the front or rear, the turning circle is wider (and there's more of the powerchair swinging around). There's also less weight on the drive wheel, reducing traction. Whereas the Q300 M Mini provides the most-compact turning circle and increased traction and stability thanks to its TRUE mid-wheel drive design.
The out-performer
.
Experience a true compact powerchair with truly sensational outdoor peformance with the Q300 M Mini. Narrow enough to be nimble in a crowded city, and with the outdoor presence of a much larger powerchair, it's streets ahead of the competition.
Anti-pitch technology
Traditionally when a powerchair comes to a halt on a slope, the stopping motion of the chair will jolt you forwards. That's a problem we've eliminated with Anti-Pitch technology, so you're kept safe and stable in your seat. Plus, thanks to its TRUE mid-wheel drive technology, you're positioned directly over the drive wheel to increase traction onto the wheel and decreasing sliding.
All-wheel suspension
With QUICKIE's all-wheel independent suspension, all six wheels remain on the ground whilst climbing and transitioning obstacles. With it's PATENTED suspension, any shocks and bumps are absorbed by the wheel's suspension, so you're assured of a soft and smooth ride.
4" (100 mm) Kerb climbing
Not a drop kerb in sight? The Q300 M Mini with its 12" (300 mm) drive wheels can handle kerbs of up to 3" (75 mm). Looking to handle something trickier? Upgrade to 14" (355 mm) drive wheels and tackle kerbs of up to 4" (100 mm).
Powerful 4-Pole Motors
Switch to the new 4-pole motors and you'll get an even punchier response to driving commands, greater ability to tackle troublesome terrains and just an all-round more exciting ride.
22 Miles of range
Powered by punchy 56 Ah batteries, the Q300 M Mini takes you everywhere where you want to go with an impressive range of up to 36 km (22 miles), so there's never a need to rush back
.
Your travelling companion
.
Crash-test approved for use with Four-Point tie down restraint systems, the Q300 M Mini also has some nifty little features to make day-to-day travel just that little easier:
Retaining traction on ramps
Front castor wheels force the drive-wheel off the ground? The Q300 M Mini's front castor arms move independently from the base so the drive wheel will retain its traction.
Wheelchair adapted vehicles
The Q300 M Mini will easily fit under the steering wheel of your vehicle thanks to it's ultra-low 16" (410 mm) seat height.
Perfect for hoisting
Weighing just 103 kg, the Q300 M Mini can be easily hoisted in and out of your vehicle - and the optional fold-down backrest, swing-away legrests or removable armrests will provide an even more compact package.
Your first-class seat to comfort
.
Ride in comfort with the SEDEO LITE seating system. Combining an adjustable and configurable seating frame with the broadest choice of support and positioning options, the SEDEO LITE is designed to be individually tailored to your needs.
Positioning elements
Different positioning elements are available to mount onto your SEDEO LITE like swing-away lateral thoracic supports, thigh supports and knee supports. All of them are easy to detach and swing-away. the integrated seat rail offer many options for mounting different positioning elements.
Integrated headrest design
The integrated headrest mount is compatible with SEDEO and WHITMYER headrests and was created to address a range of user needs,from basic support to multiple-point control
Legrest options
The length compensating legrests are easily adjustable to achieve the best possible fit. They also swing-away for easier transfers. If you require additional support with pressure relief and circulation issues, also available are powered elevating legrests. Alternatively, the centre-mount legrests allows you to sit with your knees bent at a more 90 degree angle to reduce the length of your Q300 M Mini for tighter manouevrability.
Cushion and backrest options
You can select from a range of optional comfort cushions, including four cushions and back cushions with adjustable straps and different contours for better comfort and positioning. Do you have specific clinical seating requirements? The SEDEO LITE seating system is also compatible with a wide range of WHITMYER headrests and JAY cushions and backs.
Power-up your Q300 M Mini with powered options
:
Tilt in Space
Adjust your seat positioning throughout the day for pressure relief with 30 degrees of powered tilt.
Lift & Tilt
Providing safer transfers, the 300 mm seat lift also helps you to reach everyday objects that would otherwise be out of grasp. Bringing you eye-level with the world around you, combine lift with 30 degrees of tilt for pressure relief on a whole new level!
Powered Recline Back
Independently adjust your seat-to-back angle throughout the day to help relieve pressure and redistribute your weight.
Powered Elevating Legrests
Raise your legs whenever you need to in order to reduce swelling.
Maximum Speed
6 kph / 8 kph / 10 kph
Overall Length
From 1060 mm
Overall Width
520 mm (12" Drive Wheels) / 540 mm (13" Drive Wheels) / 570 mm (14" Drive Wheels)
Product Weight
Min. 103 kg (41 Ah batteries)
Range
36 km (with 56 Ah batteries)
Battery Weight (each)
41 Ah / 56 Ah
Seating
Seat Width: 385 - 510 mm Seat Height: 415 - 490 mm Seat Depth: 410 - 510 mm Seat Tilt: 0° - 6° (Fixed Tilt) Power Seat Tilt: 30° Powered Tilt Seat Lift: 300 mm
Do you offer a financing plan?
We have partnered with Klarna to offer interest-free credit as an option when purchasing with us. With the Klarna Financing payment plan, you can spread your payments over 12, 24 or 36 months.
Klarna is a Swedish payment service provider that takes end-to-end responsibility for your payment. Klarna is the provider of smooth payments to more than 200,000 online stores. Over 90 million consumers worldwide have trusted Klarna to securely handle their payments.
At Oakham Mobility and Healthcare we provide a number of delivery options, depending on the item(s) purchased.
Our shipping charges are based on the total order value as follows:
| | |
| --- | --- |
| Order Value | UK shipping cost |
| £0 - £75 | £4.99 |
| Over £75 | FREE |
Showroom Pickup
Select "Showroom pick up or Click & collect " at the checkout and we will telephone you when your purchase is ready. Pick up your equipment from our showroom in Oakham, Rutland at your convenience. Oakham is a picturesque medieval market town with plenty to see and do. Europe's largest man made reservoir Rutland Water is only 1 mile away, with it's famous nature reserve, internationally acclaimed Osprey project, gorgeous pubs and restaurants.Why not make a day of it?
Nationwide White Glove Engineer Delivery & Home Set Up
If you live further away than 30 miles from Oakham, you can still enjoy a nationwide mainland uk "white glove" Home set up by an engineer, including home set-up and demonstration of use, service for £95. It costs a bit extra but is well worth the money. An engineer will deliver your purchase to your home, set it up and show you how to use it. They will even take all the packaging away. Select "White Glove Engineer Delivery" at the checkout to take advantage of this option. Available to all uk mainland Postcodes.
Half Price Local White glove Delivery including Home Set Up
Including Home set up by engineer and a demonstration of the controls or what we call Local white glove delivery. If the delivery address is within 30 miles of Oakham, Rutland, You can enjoy half price delivery and engineer set-up. If you qualify, this option will appear at the checkout, depending on the postcode given for the delivery address.
Delivery to Europe and Beyond
We often deliver to Europe via our European couriers, please call 01572 755204 for our best rates.
Important: Select "Showroom Pickup" as your delivery method at the checkout, and we will invoice separately for shipping. We have delivered equipment to every continent, worldwide. We can ship equipment to any address on the planet via our logistics team. Give us a ring for a keenly priced shipping quote.
Free Standard Courier delivery
On all orders over £75. You can have your purchase delivered by courier standard pallet delivery FREE to any UK mainland address.(this is usually by TNT and on large items like scooters,ramps & riser chairs this will be to the nearest kerbside to your property as the vans do not always have pallet trucks to move the heavy item into your property.
The courier will drop off the equipment in a box and it will be up to you to unpack and assemble your purchase. If you haven't anyone to assist you we recommend you upgrade to the engineer set up white glove delivery option. Delivery will usually be 2-4 days from order ( for specific days a delivery upgrade charge will apply ) deliveries are not timed and will usually take place between 9- 5pm Monday to Friday.
Make Your Own Arrangements
At Oakham Mobility and Healthcare, we are all about flexibility. If you would like to make your own delivery arrangements, please select "Showroom Pickup" from the delivery options at the checkout.
Not sure what to choose?
If you are unsure about which delivery method to choose, call 01572 755204 to speak to one of our helpful team.
Don't forget! Kerbside courier delivery is FREE to the UK mainland on all orders over £75!
Our local delivery area:
Other Indoor and Outdoor Wheelchairs viewed by customers...